11 Letters of Congratulations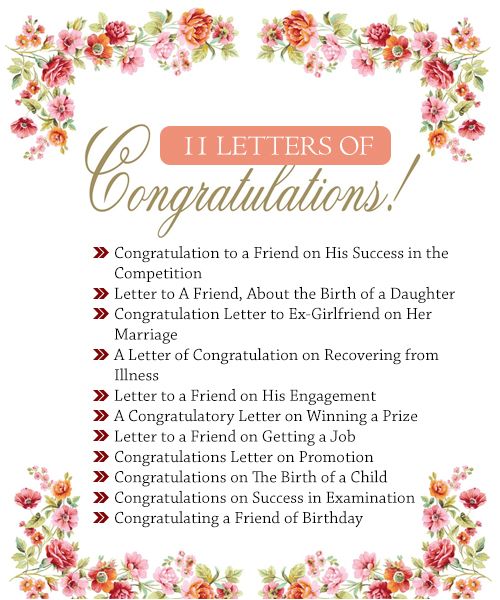 #1: Congratulation to a Friend on His Success in the Competition
My dear John,
I was immensely pleased to learn that you have come out successful in all stages of the competition and you are now a full-fledged XYZ officer.
I am sure, you would prove a good officer and a worthy son of the country. There is, however, a big if you do not lose your head and drown yourself in the sea of class one, Grade 1 officer-ship. You know well my version of these officers. You have often heard me say. If you want to destroy the intelligence of a person make him Class One, Grade 1 officer of the Government. Let me repeat this today with an explanation, so that you too may not fall into the ruts and prove my saying.
Like you all X.Y.Z competitors are intelligent. By hard study and burning midnight oil, they achieve this success. But once they become officers they forget what study means. They waste their time at the clubs in gossip in rummy and tall talk. Criticism of the seniors and obscene talk about the wives, daughters, and sisters of fellow officers are just a routine with them.
I all write this because I want to keep you away from this atmosphere. Not that I want you to be still a student or a cynic. Do go to the club to play an outdoor game. Don't encourage loose talk, do not indulge in one and it will be all right with you. You would then be an ideal officer, a true son of the country, and our country during its transition period wants men like you.
So, when I congratulate you on your success, I pray to Almighty to keep you safe and away from this atmosphere.
With Regards,
Yours Sincerely,
Jack Brown
#2: Letter to A Friend, About the Birth of a Daughter
My Dear Rayan,
I think I am duty-bound to inform you, under an agreement that we had at a college, that my wife gave birth to a female child yesterday.
Both the girl and her mother are progressing well. I take this opportunity to tell you that I will keep the agreement that we had then made innocently.
Life otherwise is usual. How is your practice going on? It gives you your bread and butter all right, I am sure. You are capable of much more and I am sure you would be able to earn it.
Please keep me in touch with your life. Remember me to your wife. With love for the youngsters and you all.
Yours fraternally,
A.R Eric
#3: Congratulation Letter to Ex-Girlfriend on Her Marriage
Dear Emily,
I am sure you will come to your parents, for your own attachments, much less for this letter, and you will get this letter. With that expectation, I am addressing you at your last address. I know you will never care to reply to it, nor do I expect you to reply to it, but just to satisfy a whim and just to give vent to my feelings I am writing this letter. When I started writing I thought I would never post it. Now that I have written it, I mean to post it too. When you have not cared about my feelings, why should I care for yours?
May I remind you of your promises? I may not call them promises I would blunt to call these your persuasions since it was you, and not me, that wanted me as a life companion. Now I understand that you wanted to use me as a tool to satisfy your lust.
You started talking about love. Believing in your tall talk, I started taking interest in you, and today I feel an aching void in my heart. I had started loving a soul, whereas, you were loving a body.
Anyway, I find solace in the fact that you have married someone else. Would you like to know why I feel solace understand now, your interest was and is in a body? God forbid, if that body of mine had gone bad after you had married me, you would have surely sought another. This would have been more painful than the present shock.
So, I congratulate you on your married, more so that you have married someone else and not me. I wish you all success. Make hay while the sun shines, who knows what may happen tomorrow!
With all the best of luck.
Once yours,
James
The Girl's Reply to the Above
My Dear James,
Nothing could be more hurting than your letter of 18th. You have every right to abuse me, a victim of circumstances. But believe me, your Emily was yours once. Emily is yours now, and will ever be yours. What if her body is someone else's possession. The soul is not his.
James, you cannot understand the handicaps of a girl of a family like mine. The parents educate the girl, allow her the various liberties, allow her to move among friends, and then comes a day when they think that she cannot exercise the right of choosing a husband. Somehow, they cannot reconcile to the idea of the girl selecting a husband.
Analyze my case. Was it not within the knowledge of my parents that you were a friend of mine? Was it not within their knowledge that I was moving to your company? How often have I accompanied you to pictures and always with their permission? Do you think they were that fools not to know that you were my friend? I had already selected you as my husband, who would be the companion of life.
When I heard that my father was arranging my marriage with somebody else, I whispered to the mother. I understand that she had a talk with the father about it, but it seems he totally ignored her. Then I had no guts to oppose it. My cries had no effect. Do you think I didn't protest?
But God wanted it that way. I had either to accept the new man or commit suicide. Now put yourself in my position and tell me what I should do. Even, if at this stage if you want me to die, I shall gladly accept your verdict. Do not hesitate to write to me. This time write to me at my husband's address, since I would be going back; and God knows what is in the store for me.
If you think I am happy, you are mistaken. It is a living corpse that is moving about. Mother alone knows my ailment and she is helpless. I shall now anxiously await your verdict.
Every yours,
Emily
#4: A Letter of Congratulation on Recovering from Illness
Dear Jacob,
I am very glad to know that your temperature is normal once again. Thanks to God that you have recovered. The last time when I dropped in to see you, you seemed exhausted. Despite the hope that the doctors held you well, I had my own apprehensions, you had grown very weak.
Anyway, thank God that the ordeal is over. You must be cautious about your diet, etc.
Wishing you a complete recovery.
Yours sincerely,
William
#5: Letter to a Friend on His Engagement
Dear Aiden,
Thanks for your letter and I congratulate you on your engagement.
But you have been less communicative about your would-be partner and her parents. Personally, I may not have many interesting days. In your in-laws, yet they have a say these in the present setup of society, the more pull you have, the more influence you command and better you stay in the world. The marriage thus affords another circle of influence, besides the one that one has by birth.
And one thing more. How far was your approval sought in this affair? Was it your own choice, did the parents consult you, or was the girl thrust on you? Please write me more about it. Still, accept my congregations.
Yours sincerely,
Mathew
#6: A Congratulatory Letter on Winning a Prize
My Dear Lucas,
You cannot imagine my happiness when I read in the press that you have won the National Prize for your stamps collection. It makes me feel proud of you. Only this morning some people were talking about it in the Coffee House and when it was referred that you were an intimate friend of mine, can you imagine how much proud I felt.
So, I congratulate you on the success which you rightly deserve. May this be the harbinger of many more credits and laurels this account.
Yours sincerely,
Jackson
#7: Letter to a Friend on Getting a Job
Dear Joseph,
I am glad to know that you have been appointed as Chief Engineer in LG Co. you have very well deserved this post because of your extraordinary qualifications and excellent experience.
I send you my heartiest congratulations.
Yours,
Jayden
Friend's Reply to Above
Dear Jayden,
My success is no less due to the good wishes of a really sincere friend like you and who has always been more interested in my career than on his own.
I really do not know how I can thank you for all you have done.
Yours,
Joseph
#8: Congratulations Letter of Promotion
Dear Gabriel,
I am very much pleased to learn that you have been promoted as Chief Engineer in your company. You have very well deserved this post for the last many years and God has been beautiful in fulfilling the same.
No doubt, your responsibilities will now be far more than they were in your last post but then I am sure a man of your caliber can handle any such responsible post without much difficulty.
Please accept my heartiest congratulations.
Yours as ever,
Samuel
#9: Congratulations on The Birth of a Child
Dear Anthony,
The news about your and Mrs. Anthony becoming parents of a son has reached us through Emily just now. She told us that the boy is smart like his father and beautiful like his mother. We could imagine how proud both of you would be! We hope the baby and the mother are perfectly healthy.
Yours,
Dylan
#10: Congratulations on Success in Examination
My Dear Henry,
This morning 'The Nation' brings wonderful news of your brilliant success in your University examination. Your second position in the University is prominently spotted with your photograph. It is indeed a matter of immense pride for your parents and for your University.
I hope you would be joining your Research as you intend to become a Doctor in your subject.
I send my heartiest congratulations on this memorable event in your life.
Yours,
Andrew
Reply to Above
Dear Andrew,
Many thanks for your letter of congratulations which I got this morning I read the news myself yesterday but did not believe for some time that the second position.
As per University rules, I shall be entitled to a monthly scholarship of USD 2500/- for my further studies. Yes, I shall join my Research soon.
It is since long we have met. Don't you intend to visit this place in the coming vacations? How are you pulling on with your job? I hope your relations would have improved with your manager.
Rest everything is fine.
With best wishes and kindest regards,
Yours,
Henry
#11: Congratulating a Friend of Birthday
My Dear Jack,
You now enter the age of 45 and, I believe, a period of prosperity and happiness. Your birthday reminds me of the hardships you had gone through and with the grace of the Almighty God, everything is now happily over.
I am sending a little gift through my servant. I hope you will like it and remember me in years to come as a token of the good wishes of an old friend. Unfortunately, our Board's meeting has been fixed for the same day at 6 p.m. and I shall not be able to attend the birthday party.
My heartiest congratulations to you and your family on this joyful day.
Yours,
Charles