8 Letters of Complaints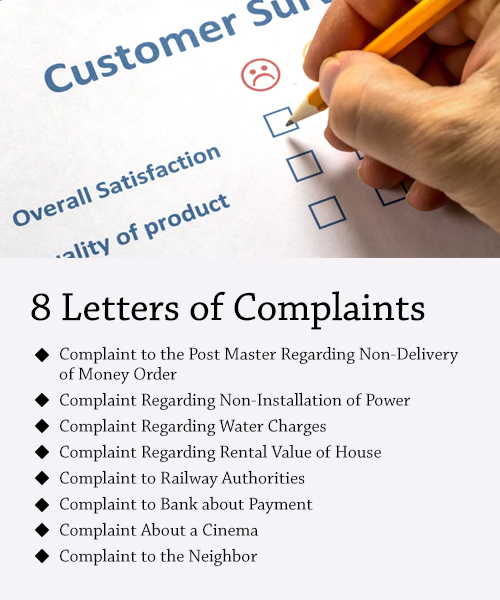 1: Complaint to the Post Master Regarding Non-Delivery of Money Order
To,
The Post Master General,
General Post Office,
Baltimore.
Sir,
This is to bring to your kind notice that we had sent a money order worth USD 2,000/- to Mr. William Mathews & Co. on 4th July (near three months back).
The payee has informed us that the money order has not been delivered until yesterday.
We, therefore, request you to please personally consider the matter and do the needful by return the post.
Yours faithfully,
Ethan Daniel
2: Complaint Regarding Non-Installation of Power
To,
Executive Engineer,
Boston Electric Supply Company,
Distribution Branch,
Boston.
Dear Sir,
I have deposited a sum of USD 1,250/- as Deposit for power on ____________ vide receipt No ________ dated ____ /_____ /______ for my house No __________, ABC road 123 lane, Boston.
I regret very much to say that till today no one from your office visited the house for installing a power connection.
Will you please personally consider the matter and take immediate action.
Thank you
Yours faithfully,
David Tylor
3: Complaint Regarding Water Charges
To,
The Zonal Assistant Commissioner,
Municipal Corporation,
Flint, Michigan.
Sir,
Humble apologies to inform you that I have not yet get Water Meter fitted at my house although the asked deposit was already made about eleven months back. With the fact that I have not water meter at my home, yet I am being billed USD 35.95 each month.
Worse of all is summer months when we do not get sufficient water for drinking and taking bath and yet we have to pay the same amount each month.
From time and again I have approached your subordinates requesting them for arranging a water meter but always lame excuse has been given.
I know it for certain that because of an acute shortage of water in Flint it may not be possible to increase the supply of water in our locality but you can certainly arrange water to relieve me of the burden of extra payment I am being asked to make.
Please note further, in case no meter is arranged within a month, I shall not only stop making payments to your bills from next month but shall also take legal action at your risk and cost.
Thank You.
Yours Faithfully,
Brandon Brine
4: Complaint Regarding Rental Value of House
To,
The Asset Assessor and Collector,
Municipal Corporation of Miami,
Dear Sir,
Kindly refer to your notice No. _______ dated ___/___/______ communicating the proposed exorbitant rateable value arbitrarily fixed by you in respect of the above premises for the year ____-____ and my objections, therefore, are appended as under:
That the proposed unjust discriminating and irrational rate-able value fixed on hypothetical basis is against the letter and spirit of Section ____ of the Municipal Corporation Act and is not acceptable to me.
That the proposed enhancement in the rateable value from USD _____ to USD ______ now proposed for the period _____-______ without any cogent reasons which have not been communicated to me is unwarranted.
That no additions and alteration have been affected in the said premises and the accommodation is the same as it existed before.
That the rent fixed by the Government for these premises is USD ______ and as such its rental value cannot be increased as provided in the provision to Section ____ of the Municipal Corporation Act.
That the said premises are occupied as before
In view of the above facts and circumstances, it is required that notice under reference may very kindly be withdrawn and treated as canceled and I may be charged the same amount as was assessed in the previous year although that amount too was more than what it should have been.
Yours Faithfully,
Caleb Samuel,
[Your Address Here]
5: Complaint to Railway Authorities
To,
Chief Commercial Superintendent,
Central Railway,
Denver,
Sir,
Subject: XYZ No ______ Date ___/___/_____ in respect of one parcel of toys.
We regret very much to say that in spite of our repeated requests we have not yet received payment for the above XYZ which was sent to you under registered cover, vide No. ________ dated ___/___/_____. A copy of the same together with a copy of our invoice No _______ is enclosed for your ready information.
Please note if we fail to receive the said payment within fifteen days from the date of this letter, we shall be obliged to pass on the matter to our legal adviser at your risk and cost.
Yours faithfully,
Jose Logan
6: Complaint to Bank about Payment
Registered A.D,
Company Name,
Nashville.
Date ___/___/_____
Ref ______________
Agent,
Bank of America,
Nashville.
Dear Sir,
Subject: Our documents for the USD 12,000/- in the name of AZ Cameron & Co.
As per our registered letter No. _____ dated ___/___/_____ we sent the above documents with clear instructions to deliver the same to the party concerned against full payment.
The said documents were returnable immediately after the expiry of twenty days if the same remained uncleared until then. The last part of our letter under references is quoted below:
"Document of uncleared within twenty days from the date of this letter must be returned to us without seeking any further instructions from us."
Having waited until ___/___/_____ we sent you another registered letter requesting you to either send us a payment or return the documents as per instructions contained in the last part which reads:
"It is requested that the payment of the above documentation must be sent to us by a bank draft by the return of post. If by any change the documents are still uncleared, please return the same within five days from the date of this letter."
We regret very much to say that until today we have neither received the payment nor the documents. We are now forced to serve you with a notice of ten days within which we must receive the payment otherwise we shall be obliged to take legal action at your risk and cost. On the other hand, if the documents are now returned, they will be refused at your risk and cost.
Yours faithfully,
Eric Kevin
7: Complaint About a Cinema
To,
Deputy Commissioner,
Dallas.
Dear Sir,
We the undersigned inhabitants of XYZ Society bring it to your kind notice that "ABC Cinema" located in our society, is a cause of irritation and annoyance to all the inhabitants of the society.
The situation becomes worse in the night when the last show is over. People come out singing vulgar songs and using similar language. Not only the sleep is disturbed but also the atmosphere, especially for the female sex, is spoiled.
As you are aware of the inhabitants of the colony come from the middle class, it is but necessary to have complete rest at the night.
We have already pointed out this difficulty in our previous three letters but regret to say that no action has been taken by you so far. We, therefore, request you once again to please instruct the Cinema authorities to change the existing gates of the Cinema to the eastern side.
Please note, if no action is taken within one month from the date of this letter, we shall be obliged to take legal action at your risk and cost.
Your Faithfully,
1 _____________________
2 _____________________
3 _____________________
4 – 100 ________________
8: Complaint to the Neighbor
Dear Mr. Michael,
I would deem it a great favor if you ask your children to keep as quiet as possible during the next few days as my grandfather is seriously ill. I know it is very difficult for any child to observes lance but then the doctor has prescribed complete quietness a must for the patient.
I do hope you would appreciate my difficulty and lend me your fullest cooperation.
Thanks.
Yours sincerely,
Jack Gavin